WHO IS STEPHEN C. O'CONNELL?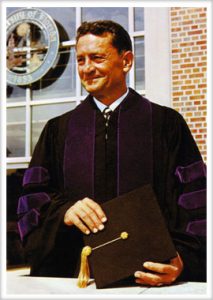 Stephen Cornelius O'Connell was a UF alumnus, attorney, appellate judge and sixth president of the University of Florida. After growing up in West Palm Beach, O'Connell attended UF from 1934-1940, where he served as president of Alpha Tau Omega, his sophomore class and the student body. A star athlete, he was captain of the Florida Gators varsity boxing team, setting the record for fastest knock-out and winning the SEC middleweight boxing championship. He also helped coach the team in the late 1930s. After an active tour of duty in Australia with the U.S. Air Force during World War II, O'Connell served 12 years on the Florida Supreme Court. In 1967, he became the first alumnus in the history of the university to be appointed president. During his six year term, 1967-1973, he guided the university through a tumultuous era of student protests. He oversaw the integration of the university and reorganized the alumni association and advancement programs. When he announced his resignation in 1973, returning to his law practice and taking up cattle ranching, he left a legacy of fiscal strength and diversity at UF. The Stephen C. O'Connell Center was dedicated in 1981 to recognize his many years of devoted service. O'Connell died at his ranch home on April 13, 2001. He is survived by his wife, Cynthia Bowling O'Connell, three children and eight grandchildren.
Timeline
We've had lots of changes around here!  The timeline will be updated soon.
Dec. 1980
O'Connell Center construction complete
Dec. 30, 1980
First men's basketball game at O'Dome
Dec. 31, 1980
The Harlem Globetrotters make the first of their 19 eventual appearances in the O'Connell Center, becoming the first touring event to appear in the O'Dome after its opening.
Jan. 3, 1981
First women's basketball game at O'Dome
1981
On tour since the '60's, the Beach Boys bring their good vibrations to the O'Connell Center
1981
O'Connell Center pool dubbed "one of the world's fastest" by the St. Petersburg Times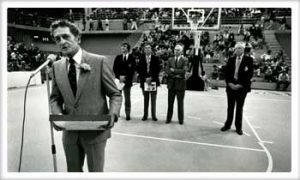 Sept. 19, 1981
Then-governor Bob Graham leads O'Dome dedication ceremony
1983
Jimmy Buffett plays his third O'Dome show in three years
1984
Cyndi Lauper takes the stage
Nov. 24, 1984
First 100-point men's basketball game at the O'Dome, defeating Central Florida 106-55
1986
Comedian and actor, Robin Williams, graced the O'Dome with his "little spark of madness."
1990
Vanilla Ice and M.C. Hammer play a sold-out show
1991
Garth Brooks concert sells out in 19 minutes, the fastest sellout in O'Dome history.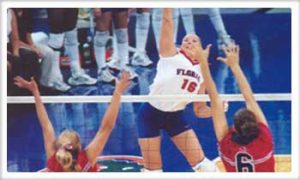 1998
Gator volleyball makes its third consecutive Final Four appearance
1998
A $10 million upgrade replaces original inflatable roof with an steel structure, adds new lighting, sound and seating
1999
In a completely sold out show, the winner of multiple Grammy Awards performs his "Evening with Elton John" solo concert

1999
ESPN Magazine calls the O'Dome "the scariest place in the country to play."
1999
In the same year he was inducted into the Rock and Roll Hall of Fame, Billy Joel takes the stage to a sold out crowd in the O'Connell Center
Feb. 2001
12,222 fans attend the women's basketball game vs. Tennessee, the largest women's basketball crowd in the state at any level
2002
John Mayer performs
2004
After announcing her farewell tour almost two years prior, Cher took the stage and performed in front of over 7,000.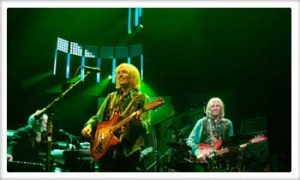 2006
Tom Petty and the Heartbreakers' hold a sellout 30th anniversary concert.
2006
Men's basketball wins its first ever National Championship
2006
A newly Gatorized Final Four floor is installed, along with four videoboards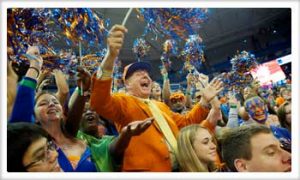 2006
The Black Eyed Peas perform
Jan. 8, 2007
Football fans gather to watch a live broadcast of the national championship game where the Gators defeat Ohio State for a second national championship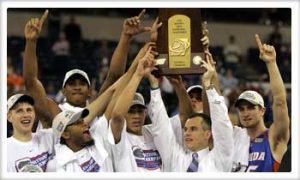 April 2, 2007
Gators become back-to-back national champions in basketball
2007
Lil Wayne takes the stage
2008
Carrie Underwood brought her "Carnival Ride" Tour to the O'Connell Center with up-and-coming country guest Little Big Town
2010
Hosts the NCAA gymnastics championships
2010
Bob Dylan performs
Feb. 5, 2011
A record crowd of 12,633 watches the Gator men's basketball team defeat Kentucky, 70-68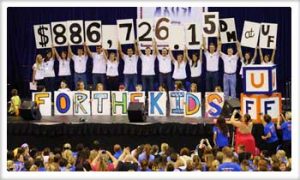 March 31-April 1, 2012
Dance Marathon raised a record-breaking $866,726.15 for the Children's Miracle Network.

2013
Florida Georgia Line cruised over to the O'Connell Center to play to a very enthusiastic crowd
2013
As part of an anti-smoking effort, OneRepublic plays a sold out show for free to UF students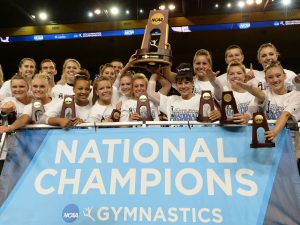 April 20, 2013
Gator Gymnastics wins its first National Championship in school history

Jan. 25, 2014
Florida men's basketball defeats Tennessee, 67-41, to set a new school record with its 25th consecutive home win. The Gators extended their streak to 32, completing its second consecutive season undefeated at the O'Connell Center
2014
Dance Marathon 2014 event brought in a staggering $1,528,330 after raising $1,169,722 in 2013 and $866,726 in 2012
April 19, 2022
Gator Gymnastics repeats as National Championships earning their second title in school history
2014
Jason Aldean headed back the O'Connell Center to perform a sold-out show in one of the venues he played when he got his start
2014
J. Cole takes the stage
2015
Dance Marathon continues breaking records as a Children's Miracle Network fundraiser, making huge strides each of the past several years. The 2015 event brought in a staggering $2,015,307 after raising $1,528,330 in 2014 and $1,169,722 in 2013
April 18, 2015
Gator Gymnastics wins a 3rd straight National Championship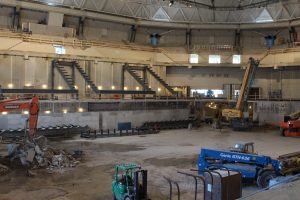 March, 2016
The O'Connell Center undergoes a $64.5 million renovation
December 21, 2016
Men's Basketball reopens the newly renovated arena with a win over Arkansas Little Rock
December 17, 2017
Volleyball makes the NCAA Final but falls just short of winning a National Championship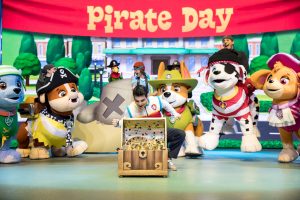 July, 2018
Fans of the hit children's TV show Paw Patrol are able to see their favorite characters live on stage
August 28, 2021
Mary Wise wins her 900th match as Head Coach of Florida Gators Volleyball