HOMEVENDOR INFODIRECTIONSCOUPONS
SAVE THE DATES:
DECEMBER 2 – 3, 2017
10:00am – 5:00pm
The Stephen C. O'Connell Center is excited to host the Craft Festival on Saturday, December 2nd and Sunday, December 3rd from 10am – 5pm. Our Craft Festival is an annual event that showcases crafts that are authentically made by talented artisans and crafters. The Craft Festival provides an excellent opportunity to shop for unique merchandise and gifts and features hundreds of different vendors. Come find something special for yourself or that hard to shop for person in your life.
Tickets
General Public:
$5.00 at the door
$4.00 in advance
UF Students:
$3.00 at the door
$2.00 in advance
Advance Ticket Sales
Tickets are now available for advance purchase on Ticketmaster.com or at a reduced rate of $1.00 off at the University Box Office. The box office is located at Gate 1 of the Stephen C. O'Connell Center. Currently the box office is open during the following hours:
Tuesday – Friday 12:00pm – 5:30pm
*Saturday 10:00am – 2:00pm
*Except on home football game days
Parking in the lot outside the O'Connell Center does require an official parking pass. If you do not have one, there are metered spots that can be utilized. All parking restrictions are lifted in the lot daily at 3:30pm.
ADMISSION DISCOUNTS
Coupons available for $1.00 off admission. Coupons MUST be printed and turned into the box office for discount. Feel free to print out as many coupons as you need. One coupon is allowed per ticket purchased.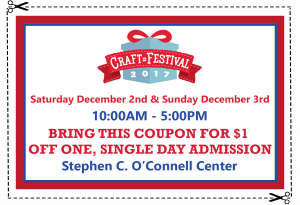 CONTACT US
If you have any questions, comments or concerns, please feel free to contact us.
Tiffany Griffith
Event Support Coordinator
tiff2158@ufl.edu
352-392-7238